In 2016, Petrolimex Singapore continued maintaining its place among Singapore's 1000 top performing enterprises. This is the third consecutive year that the company has received the honour from the Singapore's Association of Small and Medium Enterprises (ASME).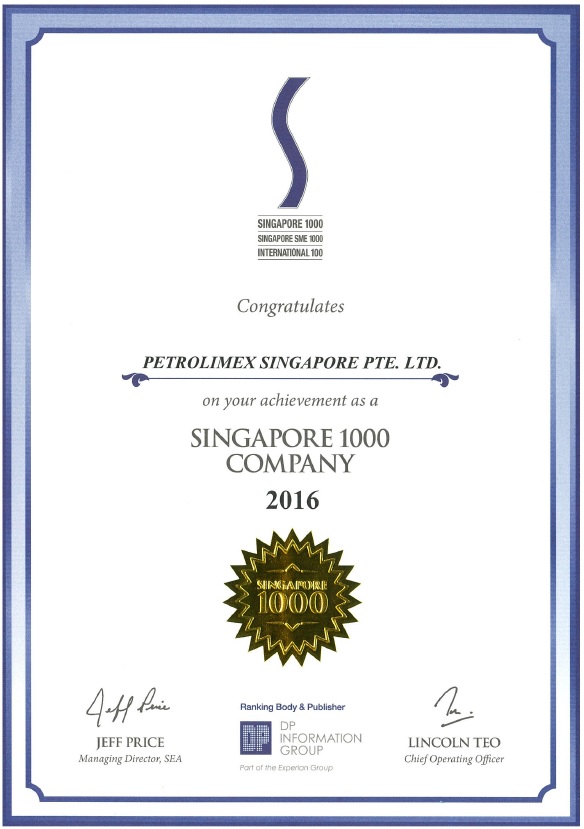 Singapore SME 1000 which ranks the nation's top companies annually over the past three decades, is a reliable indicator for government agencies, research organisations, and investors, among others. The ranking assesses the success of businesses based on financial indicators such as revenue, net profit, return on equity and overseas revenue. The Singapore 1000 analyses over 70,000 audited financials each year to arrive at the top 1000 corporations and SMEs.
The rankings are shared publicly and distributed to government sectors, embassies, trade organisations, banks, universities and libraries.
Under an increasingly fierce competition for fuel trading business, that Petrolimex Singapore is bestowed with such an honour further asserts and encourages efforts of the Company's leaderships and staff.
In 2015, the Company's net profit gained from contracts alone reached US$4.3 million, fulfilling 100 percent of the target set by the Vietnam National Petroleum Group (Petrolimex). In the first six months of 2016, the Company reported sound business outcomes: with sales reaching 1.36 million cubic meters/tonnes, equal to 62 percent of the year target, and profit reaching US$2.52 million or 58 per cent of the year target set by the Group.